Workshops and Courses
Introductory Workshops
Venue: Azelia Hall (Roger Spears Suite), 258 Croydon Road, Beckenham BR3 4DA.
There is free parking for workshop participants behind the Hall.
Dates in 2020
   Saturday 21st March
   Saturday 28th March
   10am - 12 noon
   Cost: £28, £25 concessions (or book with a friend for £20 each)
Find out how the Alexander Technique could help you. This is a small group introduction. Mostly seated, it includes explanation, simple activities and demonstration of the hands-on work. It helps you to make an informed decision about taking your interest further.
Please note: All participants are entitled to a half-price private lesson at a later date, so bring your diaries!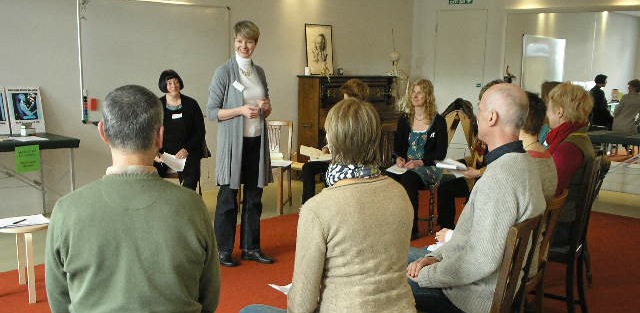 Jill gives a workshop
Residential Weekend Courses
Venue - Claridge House near Lingfield, Surrey. Please book directly with Claridge House email welcome@claridgehousequaker.org.uk or phone the manager on 01342 832150.
​Dates in 2020 (Friday evening to Sunday lunch)
   12th - 14th June
   20th - 22nd November
The weekend includes tuition, en suite accommodation and and full board including afternoon tea on Friday and Saturday all for £285. There are six tuition sessions of about 75 mins in length. The first one is on Friday evening after dinner.
The course is for beginners and anyone wishing to refresh their knowledge. It is a gentle journey through the principles of the AT in the comfortable, calm surroundings of a Quaker retreat centre. Food is vegetarian and special diets can be catered for.
Private lessons with Jill are available (pay on the day).
Previous participants said:
"Thank you for a super weekend! Excellent tutor, delicious food and lovely surroundings. It was just the introduction I was hoping for." 
Karen Rice
"You led the lessons superbly. I appreciated your being guided by the needs of the group and the touches of humour and lightness."
Roger Ferguson

Talks and Demonstrations
Book a talk or demo' at your club, workplace or support group.
Find out how the AT can improve health, mobility and quality of life. 
For all enquiries email jillpayne@skillforlife.com
or call 0208 658 0820.