"The Introductory Workshop - Face your  Fear and do it anyway!"
With Jill Payne MSTAT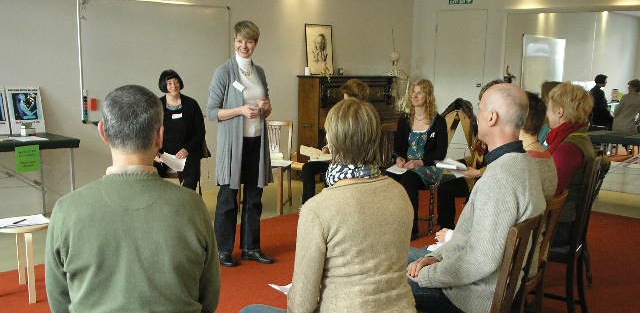 Dates in 2018:
Saturday TBA 


10am - 2.30pm (with a 30 min lunch break)




Teachers £50/ Trainees and first year teachers £40
Come to the workshop about giving workshops!
Learn how to prepare and present great workshops to the public and build your client base.
Giving introductory workshops is a great way to present the AT, publicise your practice and reach new pupils. This seminar shows you how to plan, structure and present successful workshops and is packed with ideas and advice to help you.  
​Topics covered include Marketing your workshop, Choosing a venue, Structuring and Presenting your material, Foolproof games, Confident demonstrations and Offering the next step. Full printed notes are included for each participant and useful posters will be for sale on the day. 
Previous participants said:
​   "Thank you for the brilliant workshop on Saturday. I'm already planning my first workshop!"
​​   "The workshop was informative, lively and easy to take on."​
Jill Payne has run a successful teaching practice since 2002. Her training workshops are designed to help you do the same. They are packed with useful tips and information and each participant receives detailed printed notes.
To book a place please email Jill at jillpayne@skillforlife.com or call 0208 658 0820.
Venue: Jill's home,13 Forster Road Beckenham BR3 4LH.
Parking - There is free parking on Forster Road.
Train - Beckenham is served by trains from Charing Cross and London Bridge to Hayes (leave the train at Clock House station), and trains from Victoria to Orpington (leave the train at Kent House station). The journey takes 20 - 25 mins
Clock House station is four minutes walk. Leave the platform via the door in the wall, cross the car park and bear right into Clock House Road. Take the fourth turning left into Cromwell Road, and Forster Road is the first right.
Kent House station is about ten minutes walk. Descend the steps from the platform and leave the station past the ticket office into Plawsfield Road. At the end of the road turn left into Beckenham Road and walk about five minutes until you reach Clock House station on the right. Turn right into Clock House Road and proceed as above.
Please bring a packed lunch. There are cafes and shops near Clock House station.
For further information call Jill Payne on 020 8658 0820 or email Jill at jillpayne@skillforlife.com
Running A Successful Practice"
Next date: Saturday TBA
​10am - 2.30pm (with a 30 min lunch break)
​£50 Teachers/ £40 Students and first year teachers.
Just getting started or want to give your practice a boost? This
workshop is packed with tips and advice about starting, running, promoting and succeeding in your AT teaching practice. It also includes detailed information about keeping effective records, book- keeping and tax made simple.